Comanche Stallion
Directed by
Vic Armstrong
John Ford
Chris Savino, Gary Hudson & Joseph Cacioppo
Executive Producers
for Comanche Stallion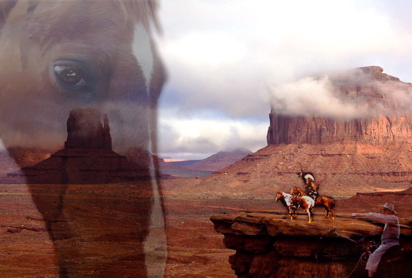 Synopsis:
General Lathrop, a man with a violent obsession, seeks retribution for the
untimely death of his son by destroying the horse he believes is responsible for his
death. In the ensuing chase the General drags an entire cavalry detail as well as a
group of Comanches into his web. The Comanches believe the animal is a spirithorse,
a mystical creature they must protect at all costs!
The Sons of the Pioneers
carrying on the John Ford Tradition for Comanche Stallion
Harry Carey Jr's to fulfill Mr. Ford's dream to make Comanche Stallion
James Arness (sample of opening narration)
Troopers for Comanche Stallion. They have appeared in The Lone Ranger & Lincoln
Welcome Bart the bear 2 to Comanche Stallion. Here he is on HBO Game-of-Thrones.
Custom made "Ballard Rifle" to be used by
MAJOR GENERAL MARCUS LATHROP
the "Hawk of Missionary Ridge"
Location Scouting in Monument Valley
Comanche Stallion would like to thank the following persons for their time and guidance:
Dan Ford: The grandson & Head of John Ford Estate
Vic Armstrong: Director, Academy Award & BAFTA
The Sons of the Pioneers
Tom Millstead: author "Comanche Stallion"
Nolen Berry, Business Managr for The Sons of the Pioneers
Hechter Ubarry: Pvt. Roca in "Crocodile Dundee II" & "16 Blocks"
Heino Ferch: Sgt. Neiter (agent Ms. Renate Landkammer)
Robert Carradine: Pvt. Tomlinson (Robert Carradine, son of John Carradine)
James Arness: Narration (completed)
Rance Howard
Alex Levine
James de Gallegos, Film Finances
Clay M. Lilley: Head horse wrangler: Lone Ranger (2013) Deadwood (TV)
Keith Payson: Line Producer & DGA Unit Production Manager
David Carrico: Ownwer. Western Trooper Productions" Professional Horsemen for the Film Industry. Lone Ranger, Lincoln, The Missing.
Lynne & Doug Seus: Bart The Bear 2
Ballard Rifle Company, President Steve Garbe
Steve Martin's Working Wildlife: Cougar, Skunks & Owl
Derek Mellus, Tara Penner, Marshall Moore: Utah Film Commission
Colin Fryer owner, Red Cliffs Lodge Moab Utah
Scott Laws: Gouldings Lodge
Larry Holiday: Navajo Guide Monumnet Valley Navajo Nation
Don Lango Sr, Don Estill, Guich Koock
Gail Woerner
Myles Brown
Dalton Ward
Will Funderburg
Kelly Sullivan
Carolyn & Todd Adams
Billy Good
Doug Clark
Candace Miller
Georgina Rawlings
Nicole Chapman
April Lane
Beth Good
Robert McDonald
Jessica M. Batarsch, VP, Business Banking Relationship Manager, City National Bank
Elizbeth Kaye McCall
Clyde Lucas: Producer and partner of the late Harry Carey Jr, wrote the Comanche Stallion script along with the book's author, Tom Millstead
Brian Jamieson: Executive, 30 years with Warner Bros. Now owner of Twilight Time
Wake Me, when the Comanche Stallion rides in!
(c) 2015 7th Voyage Productions, Inc